Now you can decide whether or not you want your posts on Threads to be shared on Facebook and Instagram as well.
Back in October, Threads launched an update that automatically shared posts on Threads with both Facebook and Instagram. The decision was likely made so that Meta, which owns all three services, could help drive engagement on the platform.
Unsurprisingly, though, some Threads users were less than excited about cross-platform sharing being done by default. Meta appears to have listened and has launched a new setting that allows users to decide if and where they want to share their Threads posts.
Sharing to Facebook and Instagram is still turned on by default. Here's how to toggle off sharing to Instagram, Facebook, or both:
On your Threads profile page, tap on the two lines on the top right of the screen.
From there, tap "Privacy."
Then you'll tap "Suggesting posts on other apps."
And then, toggle off the platforms you don't want your posts shared on.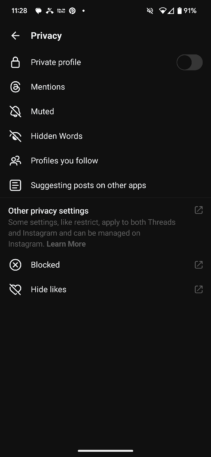 And if you change your mind later, you can just as easily turn the feature back on.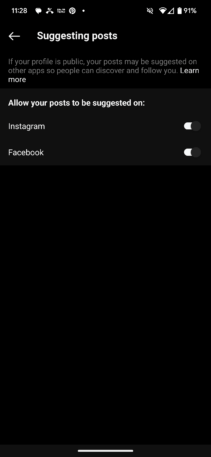 As commonly happens with Meta updates, the feature is slowly rolling out to users, so if for some reason you don't see it yet, check back in a day or two, and it should hopefully be live on your account.
Threads, Meta's answer to Twitter, launched in July of this year. The service gained over 10 million users just seven hours after it launched to the public. While interest in the platform then slowed over time, in October it had 33 million daily active users and 120 million monthly active users, according to data from Apptopia.