Don't be surprised when the shelves of your local liquor store are overrun by ready-to-drink cocktails (RTD). Sales increased 226% from 2016 to 2021, making RTD one of the fastest-growing segments in the alcoholic beverages industry. And with a predicted compound annual growth rate of 9% between 2023 and 2028, the party may just be getting started.
It's easy to score mass-produced single-serve cans of RTD destined for tailgate coolers, as well as a growing number of classics that lean toward big brand distilleries. What's harder to find are ultra-premium cocktails, those created with higher-quality spirits, often from independent distilleries, along with other artisanal-made ingredients and localized botanicals, creating a complex, premixed option—like what you get in a craft cocktail lounge.
That's the sliver of the RTD business fellow Chicagoans and cofounders Robert Haynes and Jordan Tepper are exploring with Sunday's Finest Gold Fashioned, their interpretation of the Old Fashioned, ringing in at $150.00 for a 750ml bottle (about 10 to 12 cocktails). "While a designation like ultra-premium may be the technical category, we simply try to make the best possible version of a cocktail and then price it accordingly," says Tepper, a former investment banker and consultant who focused on the beverage alcohol space.
The RTD image shift from novelty to mainstream began during COVID with the widespread availability of buying premade cocktails to-go, from even the fanciest restaurants. At the height of the pandemic, when restaurants were largely closed to on-premise dining, 39 states allowed this short-term solution to boost sales of takeout orders. In the summer of 2020, Iowa became the first state to permanently legalize cocktails to-go, and since then 21 other states and the District of Columbia have done the same, one of the biggest changes to American liquor laws since the repeal of Prohibition in 1933.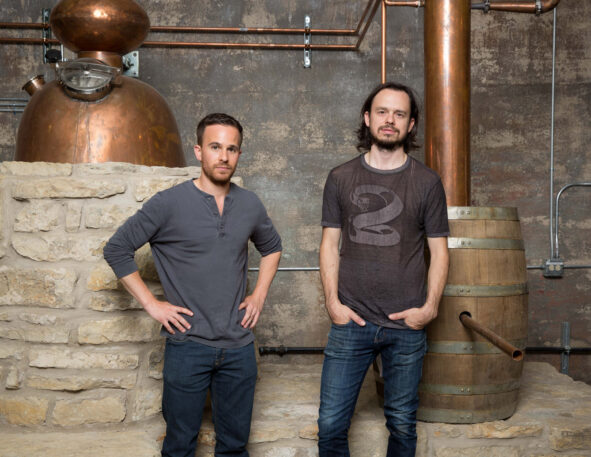 Haynes and Tepper had launched their boutique distillery Apologue Liqueurs in 2017 to focus on adventurously flavored spirits like saffron, celery, and persimmon, used in leading bars and restaurants as cocktail modifiers—the tertiary ingredients that add flavor and personality to base spirits. They wanted to use "alcohol to extract the things that are beautiful and natural about real fruit, roots, herbs, and barks via a traditional process," says Haynes, whose long spirits-and-hospitality career includes opening crew for James Beard Award winner The Violet Hour, a legendary craft cocktail bar and the first of Chicago's speakeasy revivals. Apologue operates as a nonGMO project verified and B Corporation. "Two percent of all proceeds from every product we sell benefits various nonprofits like Pilot Light, a food educational program for young students, and we also host companywide volunteer days for community-based projects, such as Growing Solutions Farm, a vocational farm for young adults with autism, where they help grow some of the celery root we use at Apologue," Haynes says.
As with other consumer-goods product companies, 2020 was a seismic year for the two entrepreneurs. "At that time, 85% of our Apologue business was bars and restaurants, and the pandemic turned it off like a light switch," says Tepper. "We understood the need to develop retail products and saw tremendous growth and interest in spirit-based RTD cocktails. But we also knew we couldn't compete with multinationals on price, so we focused on higher quality ingredients with provenance as our differentiator."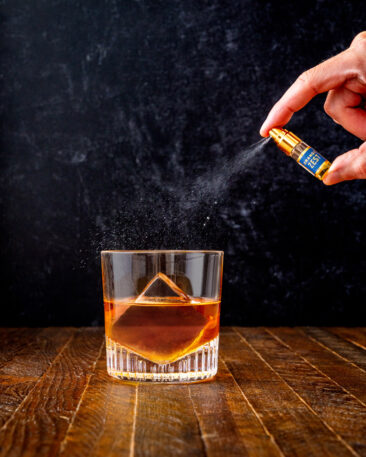 Haynes set out to create the best expression of his favorite cocktail, the Old Fashioned. "During my time at The Violet Hour, I spun and poured thousands of them, generally considered to be one of the original cocktails," he says. "I love its connection to the past, and while the elements have evolved over time, the foundational makeup remains the same: spirits, bitters, and sugar, with a finish of aromatic citrus zest. I believe you can tell a lot about a person by how they order their Old Fashioned."
For his version, Haynes chose a split whiskey base of aged Bourbon from distilleries around Bardstown, Kentucky, known as the "Bourbon Capital of the World" (for a spirit that can only be made legally in the U.S.), and rye from Indiana. He also sourced unrefined fair-trade Demerara sugar from cane grown in Malawi, Africa, to create a syrup prized for "mouthfeel," giving the cocktail body and balancing the complex whiskeys.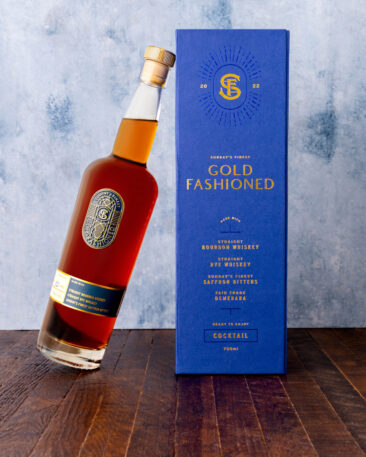 For the bitters, used in the same way chefs and cooks use spices, Haynes went all out. "In the context of a cocktail, bitters allow you to accentuate or complement your base spirits, modifiers, and juices in interesting ways, keeping your cocktail from being too one-dimensional," he says. The mix includes Grade-A Tahitian vanilla, plump pods packed with tiny fragrant seeds, roasted single-origin cocoa nibs from Ecuador, the perfect-growing climate for the aromatic beans, as well as hand-harvested Afghan saffron, wild-harvested earthy gentian root from the French Alps, and the bitter/sour Seville orange.
And for the home bartender who may not have fresh fruit on hand, the Gold Fashioned includes an atomizer of orange zest, made from the aromatic oils of Valencia, Blood, and Navel Oranges. "When we set out to create a truly sensational cocktail, we wanted to engage all the senses, and aroma is a huge part of the taste experience," says Haynes. "Giving people the opportunity to finish their cocktail with a bright aromatic zest allows them to engage in the process in a way that's memorable and enhances the quality of the cocktail. With very few exceptions, a great cocktail needs a proper garnish."
In 2021, the partners released the first batch of Sunday's Finest Gold Fashioned, selling $200,000 in the first three months; less than six months later, they'd sold out the entire first run: 3,500 bottles or $525,000 in retail sales. In 2022, the full batch of 3,000 bottles sold in five months, or $450,000 in retail sales. "We knew we were on to something," says Tepper. "While we produced slightly fewer bottles on the second run because we sourced a limited supply of 15-year aged Bourbon, it sold out even faster than the inaugural release."
Motivated by this response, Hayne and Tepper are launching a new brand, Hoste, aptly named for the consumer shift to more indulgent experiences at home. Rather than face uncertainly at restaurants, people are investing more time and effort on the home-entertaining experience where they have better control over the environment. "Hoste is an opportunity for us to build on the success of the Gold Fashioned and develop a line of spirit-based RTD cocktails that live up to our meticulous ingredient sourcing," says Tepper. "With the talent of the Rob and our other cocktail collaborators, we can create truly world-class cocktails that enable home hosts to reach the fine-dining level without hiring a bartender or spending time away from their guests mixing drinks."
Launching in August 2023, the Hoste Martini will be available that same month; the sold-out Gold Fashioned will be available again for presale in September, and the Hoste Perfect Manhattan arrives 2024. While the partners will continue to sell their new RTD cocktails through distributors, the conventional sales channel for spirits, they see another avenue emerging. "We view the passing of "Cocktails-to-Go" legislation as a prelude to legal direct-to-consumer (or DTC) spirits shipping, especially relevant for RTD cocktails," Tepper says. "Ultimately, today's consumers want to buy at the source, which should be an option for ready-to-drink cocktails. Buying direct from the producer reduces reliance on intermediary parties (and the necessary price-markup path), giving makers more freedom to invest in innovation and product quality while enabling a stronger relationship with customers. The consumer interest and benefits are there, the safeguards are there, and now we'll see which state legislatures catch up with the times."
---
Francine Maroukian, a two-time James Beard Award winner, is a food and travel writer who also works as an operative researcher for C-suite executives in big retail.