Smartphone chip kingpin Qualcomm is making an ambitious foray into a product category poised to play a major role in our lives in the years to come. Actually, it already does. Maybe you've heard of the device in question: It's known as a "personal computer," or "PC" for short.
What Qualcomm is launching is the Snapdragon X Elite, a silicon platform for laptops running Microsoft's Windows operating system. It's a system-on-a-chip containing an Oryon central processing unit, Adreno graphics processor, Hexagon neural (AI) processor, RAM, and circuitry for features such as 5G, Wi-Fi, and Bluetooth communications—basically, a high percentage of the elements that make a PC a PC. Though not Qualcomm's first platform designed with PCs in mind, it's by far the most powerful.
Qualcomm CEO Cristiano Amon sounds pumped up just talking about it. "People are going to be incredibly surprised," he told me, days before the company unveiled the chip at this week's Snapdragon Summit event in Maui. "It's the fastest CPU for a laptop, period. Period! It's faster than anything Apple, anything AMD, anything Intel. But it's also delivering performance that is faster than the fastest desktop gaming PC from AMD. It's at the same level as some of the fastest CPUs you can buy from Intel for a gaming rig, one that is liquid-cooled. And we're doing all of that in a laptop, in a battery-powered device."
The goal is to push the envelope of the tasks a PC can perform while simultaneously enabling outstanding battery life. According to Qualcomm, the Snapdragon X Elite can provide up to twice the performance of Intel chips at the same power consumption level. The company says it also beats Apple's M2 Max chip in single-threaded performance and matches it in peak performance while using 30% less power. The chip can run generative AI models involving more than 13 billion parameters—the large language model variables involved in producing a result—with 4.5 times the AI processing power of other laptop chips, Qualcomm says.
As always, the proof of the chip's potential will be in the computers built around it, which aren't due to ship until the middle of next year. But for Qualcomm, the Snapdragon X Elite is a particularly big bet involving multiple moving parts. Nearly every Windows PC is based on the chip architecture known as x86, which was created decades ago by Intel and adopted by other chip makers such as AMD. By contrast, Qualcomm—like Apple, Nvidia, Samsung, and others—licenses some of its core technology from Arm, then designs chips on top of it.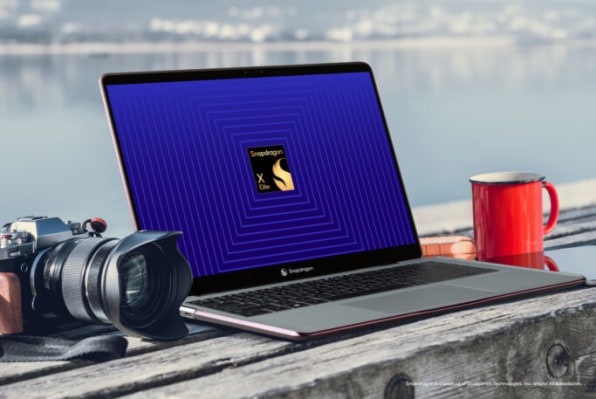 Arm-based processors have long been ubiquitous in smartphones, but they're based on an entirely different architecture than x86. Bringing them into Windowsland requires significant adjustments on the part of everyone from PC makers to Microsoft to app developers. Past attempts—like Microsoft's first Surface tablet back in 2012, which used an Nvidia chip—have bombed, in part because they introduced compatibility issues with existing software without offering any remarkable new advantages in return.
Still, it's easy to see why Qualcomm hasn't given up. Research firm IDC forecasts that 261 million PCs will be sold worldwide in 2024, a figure that encompasses desktops, notebooks, and workstations regardless of operating system. Meanwhile, the firm expects the market for AR/VR headsets to reach only 30 million units by 2027. Qualcomm is investing in headsets, too, but capturing even a slice of the PC business could be the bigger opportunity for years to come. (Reuters's Stephen Nellis and Max A. Cherney report that Nvidia is also coming after the market.)
And as tough as it's been to disrupt x86 in the past, we may be at a turning point. Or several of them. "We have a completely different performance-per-watt equation because our DNA is from phones," says Amon. "That really changes the competitive landscape. And that happens at the same time that the user experience is changing from the traditional user experience you're familiar with to an AI-assisted user experience. So, I think the moment is great for Qualcomm."
Catching up with the Mac
Another undeniable dynamic impacting the Snapdragon X Elite's launch is the example set by Apple. Starting in 2020, the company transitioned its entire Mac line from Intel chips to its own M series of "Apple silicon" processors incorporating Arm technology. The results of the switch—impressive performance and downright amazing battery life—were immediately apparent. And there were fewer software compatibility headaches than you might expect when a computing platform's underpinnings change so radically, in part because of an Apple technology called Rosetta 2 that converted x86 apps on the fly.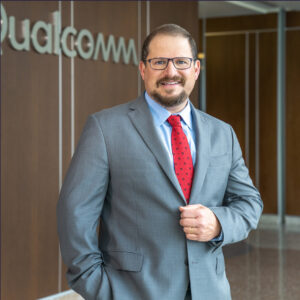 Apple and Qualcomm have a famously thorny relationship that has sometimes landed them in court. Presently, they're in a marriage of convenience that puts Qualcomm 5G modems in iPhones—but only until Apple can figure out how to make them on its own. Amon isn't hesitant to frame the Snapdragon X Elite in the context of the current Mac line's benchmark of technical excellence: The goal, he says, is to give the rest of the world's laptop makers "the leading solution to compete with Apple." (The chip incorporates the know-how of the former Apple engineers who founded Nuvia, a startup Qualcomm acquired in 2021 for $1.4 billion.)
Both Apple and Qualcomm's chips benefit from the all-encompassing integration typical for a smartphone but not the historical norm for a PC. "Not only the CPU is there, the GPU is there, you have AI processor there, the image signal processor for cameras there—everything is there," says Amon. "So, it significantly simplifies the design of a PC, which allows you to have a very thin and light form factor that wasn't possible for that level of performance."
For all of its advantages, bringing Arm-infused smartphone tech to the PC requires an operating system that supports it. In the case of Macs, Apple itself bears that responsibility. But other computer makers depend on Microsoft to ensure that Windows runs well on Qualcomm's chips. And while the company has always had every incentive to ensure compatibility with x86 PCs, Arm-based ones have been a side project at best.
Change is in the wind there, too. Microsoft's interests were once so symbiotic with Intel's that the industry referred to the Windows/x86 platform as "Wintel," as if it were the creation of a single industry ubergiant. In recent years, however, Intel has struggled to keep up with leading-edge developments in chip design and manufacturing, digging itself a ditch that it's still in the process of escaping. That's no longer a problem for Apple, but it is for makers of Windows-based PCs—and therefore for Microsoft.
"Intel's turnaround is going to take some time," says Anshel Sag, principal analyst at Moor Insights & Strategy. "They have a little bit of a glimmer of hope. But I believe that Microsoft has finally come to terms with the fact that the Wintel alliance does not serve Microsoft as well as a diversified silicon strategy."
Sag notes that some recent Windows 11 features have appeared first for Qualcomm's Arm-based platform, including video call-enhancing tricks such as minimizing background noise, blurring the background, and—you can decide for yourself if this is truly an enhancement—faking eye contact to make it look like you're always looking directly at other folks. "I think that's a clear indication that they want to have something to compete with what Apple is doing on the MacBook," he says.
Kedar Kondap, Qualcomm's senior VP and general manager of compute and gaming, points to the fact Microsoft designed a Qualcomm-powered mini-PC designed to help developers migrate their apps to Arm technology—which CEO Satya Nadella introduced at last year's Build conference—as additional evidence of the software giant's commitment. "We obviously have a very tight partnership with Microsoft to make sure that the Windows OS works efficiently on the Snapdragon X Elite platform," he says. (Microsoft declined to comment for this article.)
Lack of efficiency is one big reason earlier Windows PCs built on Arm chips have had so little impact. "Windows on Arm, while functional, is not ready for the $2,000 big leagues," wrote The Verge's Monica Chin last November in her review of Microsoft's Surface Pro 9 computer based on a custom Snapdragon chip called the SQ3. She found the experience "peppered with glitches and freezes," especially when she ran apps that hadn't been redone to run natively on Arm's architecture.
If the Snapdragon X Elite laptops set to show up in mid-2024 were to be similarly bedeviled, no amount of theoretical technical achievement would matter much. Amon acknowledges the challenges along the way and says the new chip has overcome them. "We knew that as we moved from the x86 to an Arm-compatible instruction set, there would be a journey to get all of the applications and the performance," he says. "And I think the Elite X is us getting to the end of this journey."
AI on board
Of course, everybody in the PC business wants to build svelte laptops with blazing performance and marathon battery life, and always has. But the Snapdragon X Elite also reflects another trend that is very much of the moment: AI everywhere. With its Hexagon NPU, the chip is designed to run generative AI algorithms right on the device, not in the cloud like ChatGPT or DALL-E.
Even with a silicon platform optimized for AI at their disposal, here's a limit to how sophisticated PC-based algorithms can be: "There are some significantly large models that are running in the cloud and will always stay running in the cloud," says Kondap. But keeping AI local also has its advantages. Certainly, many people might be more comfortable knowing that sensitive bits of data—be they family photos or mission-critical business documents—stayed on their computer rather than being shuttled off to some distant server farm in the sky. And local AI can eliminate the latency that's inherent when AI is performed remotely across the internet.
What sorts of specific useful tasks could on-device AI perform? Amon rattles off a bunch of possibilities, some of which he notes are probably most pertinent on an AI-enabled smartphone rather than a laptop. AI could notice that you've mentioned your vacation in a text message to a friend and ask if you want to share photos from it, for instance. It could summarize web pages too long to be easily read on a small screen. It could power some of the features in productivity assistants such as Microsoft's Copilot in a more inherently secure fashion than their current entirely cloud-based incarnations.
Developers only have an incentive to come up with killer AI apps once there are PCs out there capable of running them, and PC buyers can only care about them once they exist. But Amon says that a profusion of new capabilities are on their way. "Six months ago, I'd give you one or two use cases," he says. "Now we can talk about multiple tens of use cases. I think six months from now, we're going to be talking hundreds if not thousands."
A critical mass of such uses that resonate with consumers and businesses could help solve a problem for the entire PC market. Historically, the business has thrived during periods of dramatic leaps in what a computer could do. That happened frequently in the 1990s, when features such as 3D graphics, high-quality sound, optical storage, USB, and broadband debuted. This century, however, has seen far fewer such advances. And after booming in the early days of the pandemic, PC sales have recently slumped—a sign that people don't see the new machines out there as being that much better than the ones they've already got.
If nothing else, Snapdragon X Elite laptops should show up in sufficient quantities to test their possible impact on the PC landscape in a way the sporadic previous appearances of Arm-based Windows PCs never have. "In the conversations that I've had with [PC makers], every single one has unequivocally committed to shipping a product next year," says analyst Sag. "Obviously, it's going to be the first of this new platform, so there will probably be some early issues. Those are to be expected. But in general, it seems like they're all fairly happy with where it is. And if the first generation product is this good, I can only imagine where they'll be on the second and third generation."
Amon says he's willing to be patient. Defaulting to a smartphone-themed frame of reference, he predicts that PCs that aren't built for AI could end up on a BlackBerry-like trajectory that leaves a once-pervasive platform looking archaic. Probably not in 2024, but 2025 could be a moment of truth.
"It's hard to make a really precise prediction, especially because we're waiting [to see] what developers will invent and what use cases will be created," he stresses. "But I'm sure we're all going to be surprised—and it's going to happen faster than we originally forecasted."