Twitter's no good, very bad week just got worse. While Elon Musk was busy placing limits on the number of tweets users can now view each day, Instagram owner Meta was quietly preparing an imminent launch of its new Twitter competitor called Threads. Here's what you need to know.
What's happened? Instagram owner Meta has quietly listed its new Twitter competitor in Apple's App Store. The pre-order page says the app is expected to be available July 6. The app will be a free download and is officially titled "Threads, an Instagram app."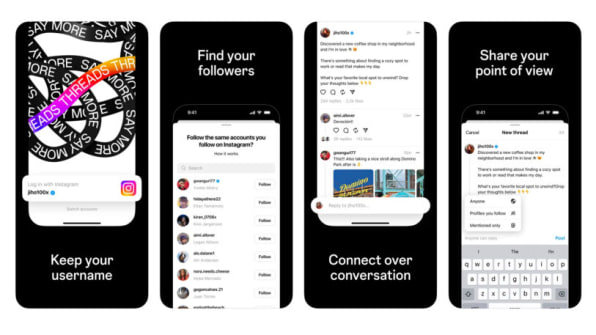 What is Threads? It's Meta's Twitter competitor, which the company has been rumored to be working on for months. Meta's official description of the app is, "Threads is where communities come together to discuss everything from the topics you care about today to what'll be trending tomorrow. Whatever it is you're interested in, you can follow and connect directly with your favorite creators and others who love the same things—or build a loyal following of your own to share your ideas, opinions, and creativity with the world."
How is Threads related to Instagram? Threads allows you to sign in with your Instagram account and also quickly follow all the people in Threads that you already follow on Instagram. Meta likely chose this route in order to grow the app's user base quickly and figured that if you already follow someone on Instagram, you'll probably want to interact with them on Threads, too.
What is a Threads "tweet" called? Just as Twitter has tweets, Threads has "threads." So when you post a new message, you can say you've just posted a new thread.
What does the user interface look like? A lot like Twitter. In other words, you see the thread post, and below that there is a like, comment, and rethread (aka retweet) button. You can also set privacy levels on a thread you post so anyone can view it or just the people you follow.
Is this the end of Twitter? Probably not. At least not in the short term. But Threads does present the biggest challenge to Twitter since Musk took over. Unlike other Twitter alternatives like Bluesky and Post, Threads has the power of a large and well-funded engineering team behind it. And since it is piggybacking off of Instagram, Thread's user count could shoot up into the millions within weeks, which could bring even more people to the platform—and give users who are sick of Twitter's increasing restrictions and bugs somewhere else to go.
How can I download Threads? When Threads launches, you'll be able to download it for iPhone here. The app is also expected to be available for Android but at this time there is no public Threads listing in the Google Play store.