Anyone who's ever watched a single game of American football, which is notorious for its unapologetic, helmet-clashing violence, knows that players aren't in it forever. Тhe average NFL player retires before they hit 30. When they do, many pursue football-adjacent careers in coaching, scouting, or sports media—but very few choose to go to architecture school.
Michael Bennett is an exception. The Super Bowl champion and three-time Pro Bowl defensive end, mostly for the Seattle Seahawks, hung up his cleats in 2020 at age 33. Since then, he has studied design at Seattle's Heritage School of Design, then architecture at the University of Hawaii, and he is launching his own practice called, Studio Kër, next month.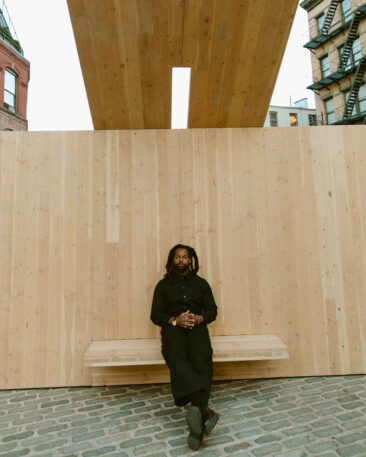 With Studio Kër (which means "home" in Senegalese, where Bennett's ancestors are from), the football-player-turned-designer wants to break free of architectural conventions and write a new path for himself and the people who will come after him. "Black people, we have to create a pipeline of next generation of thinkers," he says.
Bennett has learned all about Le Corbusier and Frank Lloyd Wright, but he doesn't necessarily look up to them. Instead, he admires the American activist Angela Davis, and the influential leader Booker T. Washington who famously preached a self-help philosophy, urging African Americans to elevate themselves through hard work in order to gain the esteem of white society.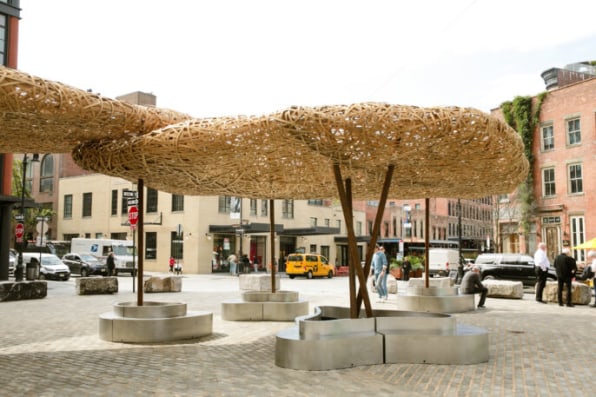 What his new path looks like is yet to be seen. Does he want to make houses? Furniture? Perhaps it's foolish to label someone who dislikes labels. "I think of myself more like a spatial designer, or a spatial practitioner," he says. "I just like space; so wherever media that needs to be expressed to talk about a particular emotion or talk about a particular idea, I want to dive into it. I don't want to put a title on it."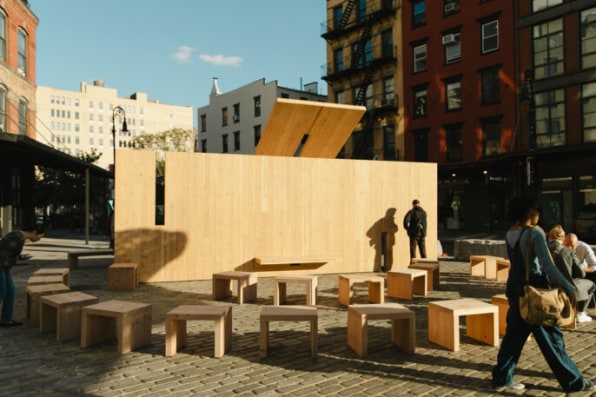 This month, Bennett unveiled his first project at Gansevoort Plaza in Manhattan's Meatpacking District. Public Display, which was presented briefly at the Seattle Design Festival this summer, is a humble, handsome pavilion that consists of a large panel of cross-laminated timber (CLT) leaning against another panel of the lightweight, yet strong, construction material. Each panel is clipped with slits and cutouts that frame little vignettes of urban life or slivers of sky, while three long benches plus a dozen freestanding stools arranged in an arc provide ample opportunity to contemplate your surroundings.
Bennett describes Public Display as a "gathering space," which upon reflection, encapsulates perfectly what we can expect from the former football player: public spaces, sacred spaces, Black spaces.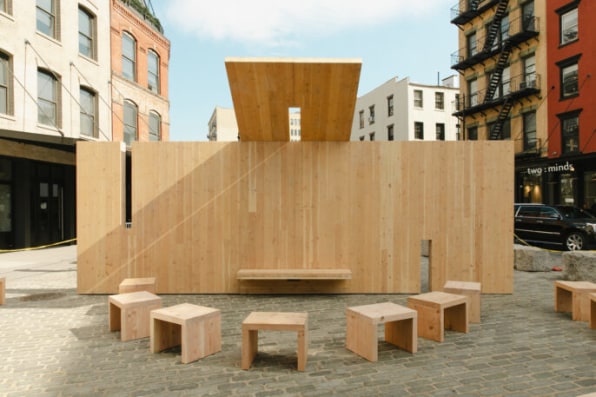 I first met Bennett on a video call, where he logged on from his garden in Oahu. (Bennett and his wife, Pele, bought a house in East Honolulu in 2015 and lived on Oahu during the NFL offseason.) We met in person a week later in Manhattan, for the official unveiling of Public Display, which was part of Design Pavilion, an outdoor exhibition featured in New York's design festival, NYCxDesign.
That day in Manhattan, Bennett donned the design-world uniform of a crisp, black jumpsuit and polished black shoes. When he stood up to introduce his project to a small crowd, he had the poise of a priest and the stature of a football player.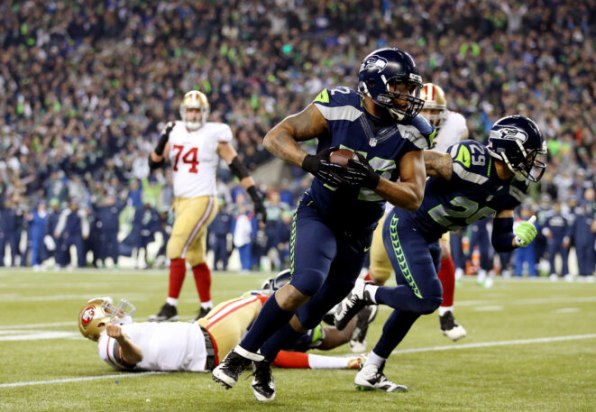 It's easy to forget that Bennett was once an NFL darling. During our conversation, he barely mentioned playing football except to explain why he left the sport. Toward the end of his 11-year professional career, Bennett noticed the toll football was taking on him. "You make a deal with the devil, you fall in love with the sport, but it comes with consequences," he says. Those consequences were dire: He wanted to see his three daughters get married. He didn't want to give his wife "a broken man" from the physical exhaustion, the mental strain, and the constant threat of chronic traumatic encephalopathy (a brain disorder that is often associated with repeated head injuries and is common among NFL players).
During the early days of the pandemic, Bennett began plotting his retirement from the NFL. "Usually during life, the water's so rough you can't really see a reflection; and during COVID, the water was still, so we had a chance to reflect on a lot of things," he recalls. "During those reflections, you can't hide. You have to truly look at yourself and see that in its purest form. I had a chance to realize my family is beautiful. I reached the highest of the heights, and it's time to try something different."
When Bennett did retire, he announced it on his Instagram profile. "Retiring feels a little like death of self, but I'm looking forward to the rebirth—the opportunity to reimagine my purpose," he wrote. The comments flooded in. "Enjoy the next season," said one person. "Please continue to change the world!" said another.
But Bennett needed a breather first, so he spent a few months in New Zealand with "nothing but sheep, river, and stars." Then, he moved back home to Oahu where he enrolled in an eight-month online design course from Seattle's Heritage School of Design. His classmates kept eyeing him through the screen like they'd seen him before but couldn't quite place him.
In the fall of 2021, he enrolled in architecture at the University of Hawaii, and though he has now taken a semester off to focus on various exhibitions, he plans to resume in the spring and will graduate in 2025.
---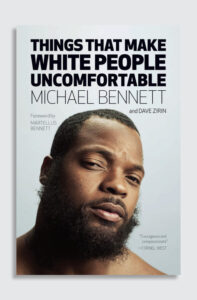 Football was never the be-all and end-all of Bennett's life. Both on and off the field, he has always advocated for social change. In 2017, he wrote a statement expressing solidarity with the women's march. Right after the white supremacist Charlottesville rally, he sat in protest during the national anthem. In 2018, he also published a candid memoir, Things That Make White People Uncomfortable, which he cowrote with sports journalist Dave Zirin. With his wife Pele, Bennett also founded the Bennett Foundation, which educates underserved children and communities with free, accessible programming.
A former teammate has described him as a "Renaissance man"; and just this week, his younger brother, Martellus Bennett, described him to me as "a worldly guy." Even from his early days of going pro, Bennett knew that there was a second act to his career. "I don't think he always knew that—where he would go after—but I think he has this relationship with the game to understand that and know that it's going to end," Martellus says.
Martellus is also a former NFL player and designer, who retired two years before his brother. While playing in the NFL, he designed interactive apps, authored and illustrated four children's books (one of them is being turned into a Disney animation), and created his own ice cream flavor with Oddfellows. Today, he runs two creative agencies, The Imagination Agency and Tomonoshi, which he launched a few years after a 10-day "spiritual pilgrimage" through Japan that culminated in him writing his resignation letter on the flight home.
According to his brother, Michael Bennett's affinity for design arose from his love of beautiful objects. "He has great taste, and I think at some point when you have great taste, you think about making the things that you have a taste for," he says. "When we travel together, you always want Michael to pick the hotels and pick the places to eat, you know? He's that guy."
When I asked Michael if anyone in particular inspired him to become a designer, he referenced his brother and his wife (Pele is an artist and photographer); but above all, he credited his grandfather, a welder who built a church right next to their childhood home in Louisiana. "My grandpa was really the first spatial practitioner that I really noticed," he says. "He was the first person who really identified Black agency for me."
---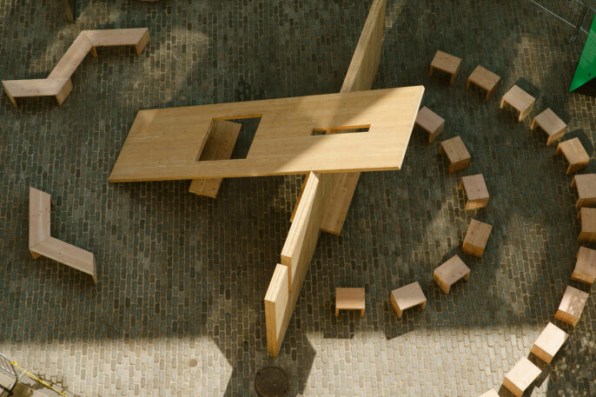 Back at the Meatpacking District, Bennett seemed at ease when he picked up a microphone to talk about his project. Almost every seat surrounding his pavilion was filled as people gathered to listen. After a brief introduction of the project, he spoke of architecture as an agent for change and told the crowd something he had told me over Zoom the previous week: "The ghetto isn't naturally designed, it is designed; so if it's designed, then we can redesign it."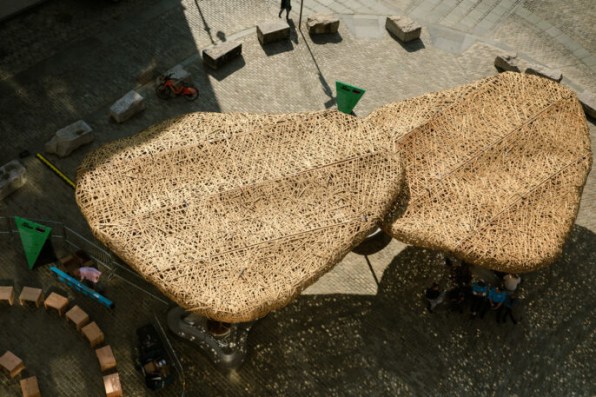 It's fitting, almost poetic, for Bennett's first project to be a "gathering space," to borrow his words. On a pragmatic level, some details remain lacking, namely the absence of shade or a sense of enclosure that is more pronounced at the pavilion next door, which looks like a bamboo cloud on stilts. If the sun burns too much, or the rain falls too heavy, the structure becomes futile, but such is the curse of most pop-up installations that purport to be designed for the public. In a way, the entire set-up reminded me of a church without a roof: Rain or shine, the spirit is still there.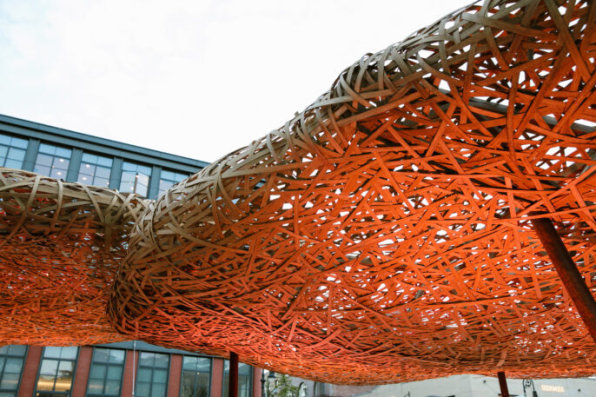 When I asked about what's next, Bennett remained elusive, referencing art installations, furniture, and research-based projects on religious and sacred spaces. What is clear is that what he wants to do more than anything else is to bring people together—whether that's in a public space, a museum, a church, or his own family barbecues, which Martellus says he's particularly fond of. "He's like, 'Oh, we should get all the family and all the kids, and we should go to Colorado for Christmas' and I'm like, damn bro, that's a lot of people," he said with a laugh.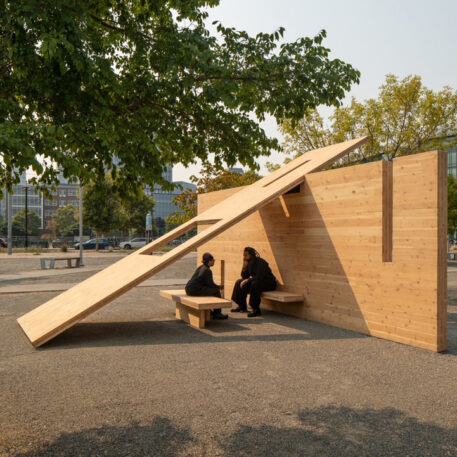 When Martellus first saw Public Display, it was in Seattle. The structure reminded him of a sundial, but what struck him the most is the way the piece came to life when people congregated around it."The piece by itself is strong, but it's the strongest when people are around it, and why I think that is important is because I feel like Michael is the same way," he told me. "I think Michael by himself is strong, but Michael with family and people around him is at his strongest."